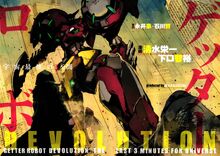 Getter Robo Devolution ~Uchū Saigo no 3-bun Kan~ (trans. Getter Robo Devolution ~The Last Three Minutes of the Universe~) is a manga by Eiichi Shimizu and Tomohiro Shimoguchi published in Bessatsu Shounen Champion with a prequel chapter shown on the October issue before the official release on December 12, 2015[1]. Seven Seas Entertainment has licensed the series and will begin releases on May 2018.[2]
Three young pilots connected by the Getter Rays (Ryoma Nagare, Hayato Jin, and Musashi Tomoe) are recruited by Dr. Saotome to fight the Devolved beings appearing from spatial distortions using the only weapon that can face these monsters, the Getter Robo. The Saotome Institute however holds a dangerous secret, a fragment of the being called Emperor which connects the Getter and its pilots to parallel worlds, including the presence of people from those worlds such as an older Hayato and Dr. Shikishima.
References
Edit
Ad blocker interference detected!
Wikia is a free-to-use site that makes money from advertising. We have a modified experience for viewers using ad blockers

Wikia is not accessible if you've made further modifications. Remove the custom ad blocker rule(s) and the page will load as expected.